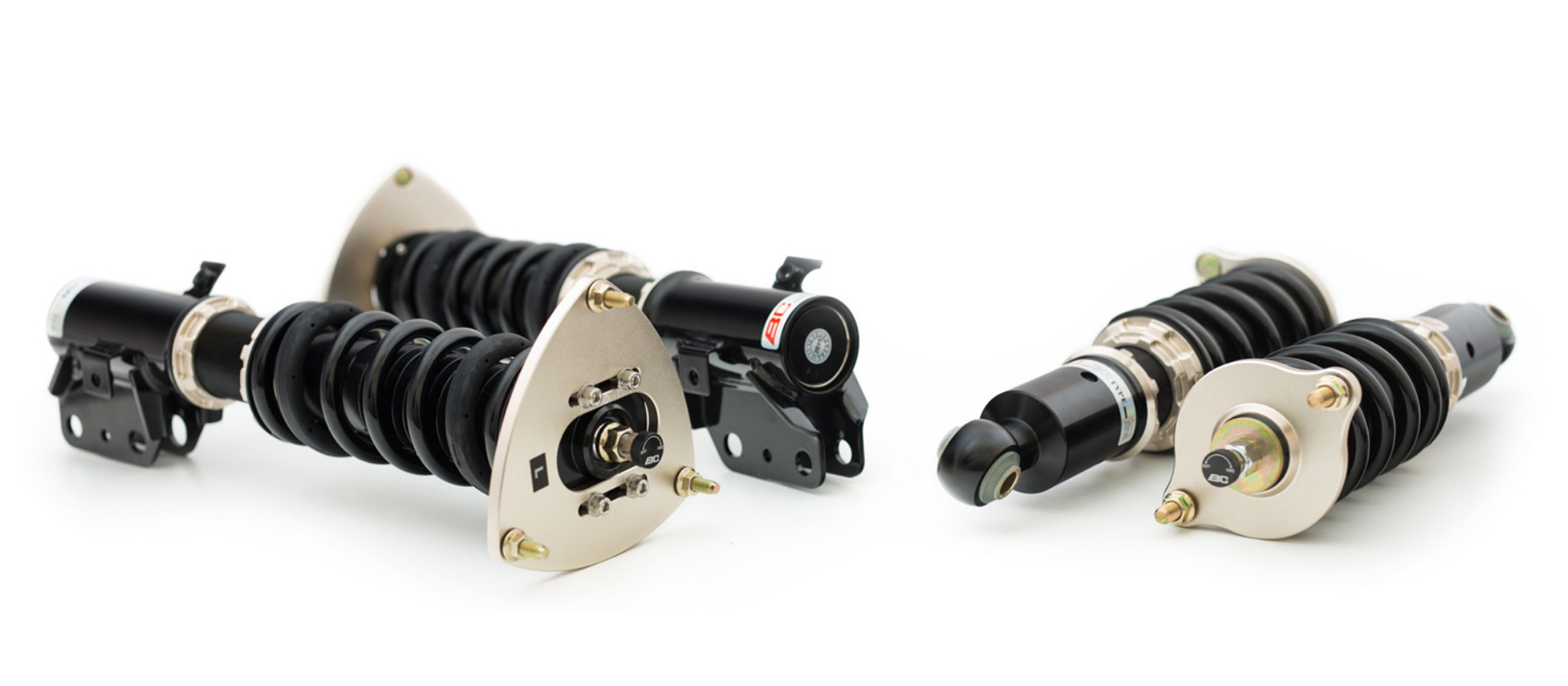 The BC Racing BR Series offers the most affordable entry into coilover suspension without sacrificing performance, comfort, build quality, vehicle height, or handling. This is done by extensively testing each vehicle then refining the coilover characteristics as many times as needed to ensure the most well-balanced and affordable aftermarket suspension conceivable. 
**Please note that not all vehicles use camber plates in the front and/or rear. Some vehicles reuse OEM upper mounts.
IMPORTANT DISCLAIMER:
The Swift Springs and/or Extreme Low Variant are custom made and carry a 3-4 week lead time.
E53 E70 Chassis Codes | BR Series Coilover BMW X5 AWD 2001-2013 - I-77-BR
The BC Racing BR Series is our most popular suspension package. Equally at home on street and track the BR Series offers the best of both worlds with ride height and damping adjustability. Damping is adjusted simultaneously and height is adjusted independently of piston and spring stroke. The BR Series offers a minimum 2 inch drop *** as well as 30 levels of damping adjustment. Assembled by hand in our facility, each application undergoes stringent quality control protocols to deliver the best possible suspension product to the consumer. Our most added value to our customers is the option to customize spring and damping rates to your to your individual preference. The BR Series is not meant as an entry level suspension setup but as a versatile setup that excels across a number of automotive disciplines. ***Extreme drop separate
E53 9kg Front Spring Rate~!~E53 8kg Rear Spring Rate~!~E53 Aluminum Alloy Front Upper Mount~!~E53 Re-Uses OEM Rear Upper Mount~!~E70 14kg Front Spring Rate~!~E70 12kg Rear Spring Rate~!~E70 Pillowball Front Upper Mount~!~E70 Re-Uses OEM Rear Upper Mount
Highly Customizable
Mono-Tube Shock Design
Linear Piston And Damping Curve
Height Adjustment Independent Of Spring Compression
30-Clicks Of Simultaneous Compression/Rebound Adjustment
Front Camber Plates Standard On Applicable Kits
Rear Camber Plates Available For Applicable Kits
Custom Spring Rates And Swift Springs Available
Custom Valving Or Valving Paired For Custom Spring Rates
1-Year Warranty Against Manufacturers Defect
Fully Rebuildable
Contact Customer Support for custom spring rates, swift spring upgrades, as well as other optional customizations that may be available for this product.
FREE Ground Shipping on All BC Coilovers! Automatically applied at checkout. (Domestic US Only)
All prices, specs, fitment, and drop are subject to change without notice
All kits are 2WD unless specified AWD
Some RM Series & Most ER Series systems use different spring rates than BR Series. Please inquire if necessary.
Notes regarding electronic damping (EDC, DDS, etc.) pertain to physical fitment only. BC Racing kits DO NOT interface w/ OEM electronic damping control systems.
2007 BMW X5 3-0si
2007 BMW X5 4-8i
2008 BMW X5 4-8i
2008 BMW X5 3-0si
2009 BMW X5 xDrive48i
2009 BMW X5 xDrive30i
2009 BMW X5 xDrive35d
2010 BMW X5 xDrive30i
2010 BMW X5 xDrive35d
2010 BMW X5 xDrive48i
2010 BMW X5 M
2011 BMW X5 xDrive35i
2011 BMW X5 xDrive35d
2011 BMW X5 xDrive50i
2011 BMW X5 M
2012 BMW X5 M
2012 BMW X5 xDrive35d
2012 BMW X5 xDrive35i
2012 BMW X5 xDrive50i
2013 BMW X5 M
2013 BMW X5 xDrive35d
2013 BMW X5 xDrive35i
2013 BMW X5 xDrive50i