Fast Car UK // LS-SWAPPED DATSUN 240Z: PEAK PERFORMANCE
28th July 2021
Feature first appeared in Fast Car. Words: Dan Sherwood. Photos: Mike Kuhn.
For Shawn Bassett, what started out as a cheap way into Z-car trackday fun has turned into a balls-out carbon-clad Pikes Peak monster! This is his LS-swapped Datsun 240Z.
Feature first appeared in Fast Car. Words: Dan Sherwood. Photos: Mike Kuhn.
If there's one thing in life that's certain, it's that things are never certain. After all, you know what they say about best laid plans… an idiom that is especially true when it comes to building a project car. You know the score, what starts off as a few light breathing mods, soon snowballs into a full-on forced induction setup complete with stripped interior and rollcage. We've seen it a thousand times, but few can boast such a radical departure from their original plans as happened in the case of US speed freak Shawn Bassett and his LS-swapped Datsun 240Z.
"I wasn't even considering building a project car at the time, much less one based on a Japanese classic," laughs Shawn. "Most of my previous builds had been off-roaders and jacked-up rock-crawlers. But I guess, with the Datsun, it was just a case of love at first sight."
In fact, Shawn was actually in the midst of competing in a rallycross event in his high-riding Pre-Runner race truck when he caught his first lust-filled glimpse of a little yellow 240Z on a nearby road course.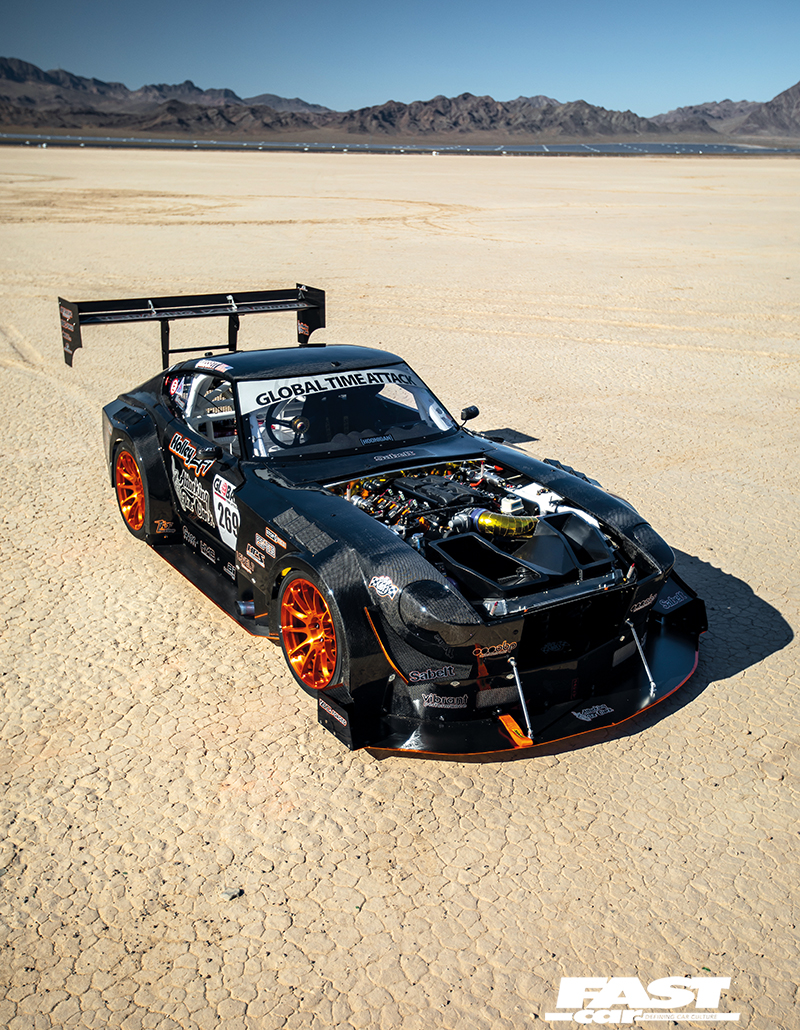 "It looked so awesome," he beams. "I simply had to have one, and so just three-days later, I was the proud owner of the cheapest possible Datsun I could find on the Miami Craigslist listings website."
Initially planning to build a fun and inexpensive tracktoy, Shawn soon learned that price and value are two very different things as, after a small amount of probing under the surface, it was obvious that the Z was in much worse condition than he had originally expected.
"I knew from the low price that this was likely to be a bit of a fixer-upper," Shawn chuckles. "But I wasn't prepared for the level of work that I found when I started taking the thing apart." Unfortunately, Shawn's worst fears were realised when he discovered the car was completely rotten from nose-to-tail.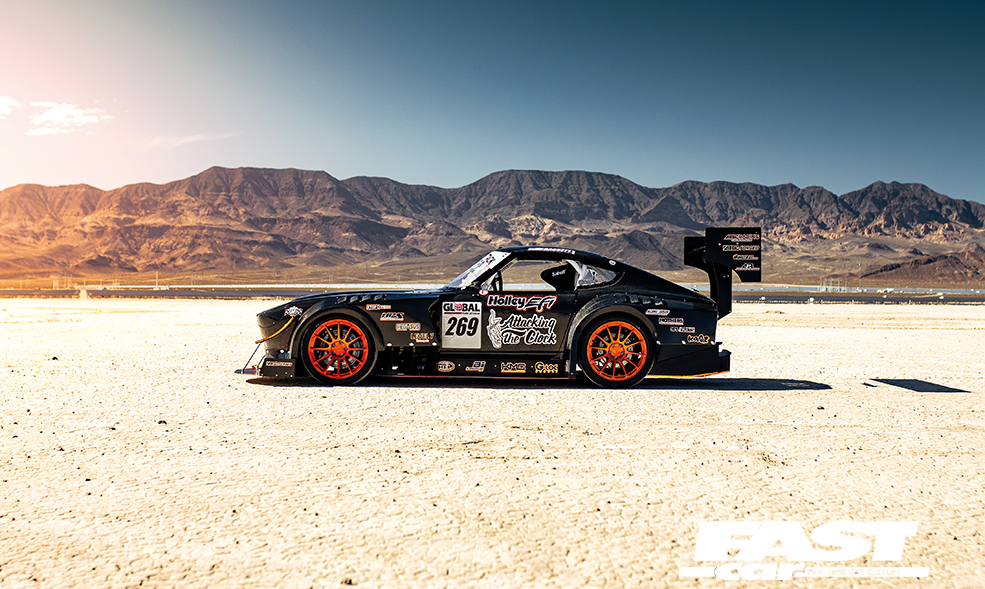 "It was a complete pile of rust," he sighs. "And was only really good for the crusher."
But rather than send the old girl off to the scrap heap in the sky and chalk the whole thing up to experience, Shawn decided to mothball the project and left what is now his LS-swapped Datsun 240Z to continue quietly corroding in the corner of his garage.
Over six months passed before he finally decided to pick things up again, but rather than admit defeat, Shawn took the unexpected decision to forge ahead with the project, but take the whole build in a very different direction…
"I'd always dreamed about competing at Pikes Peak International Hill Climb, but being a long-time professional motorcycle racer, I presumed that it if it did ever happen, it'd be on two-wheels, not four," he explains. "But with the Datsun needing so much work, I realised that this was actually the perfect opportunity to finally put all of the fabrication and composite skills I'd learned over the years to good use and give the corroding classic a new lease of life and make my dream of racing to the clouds a reality."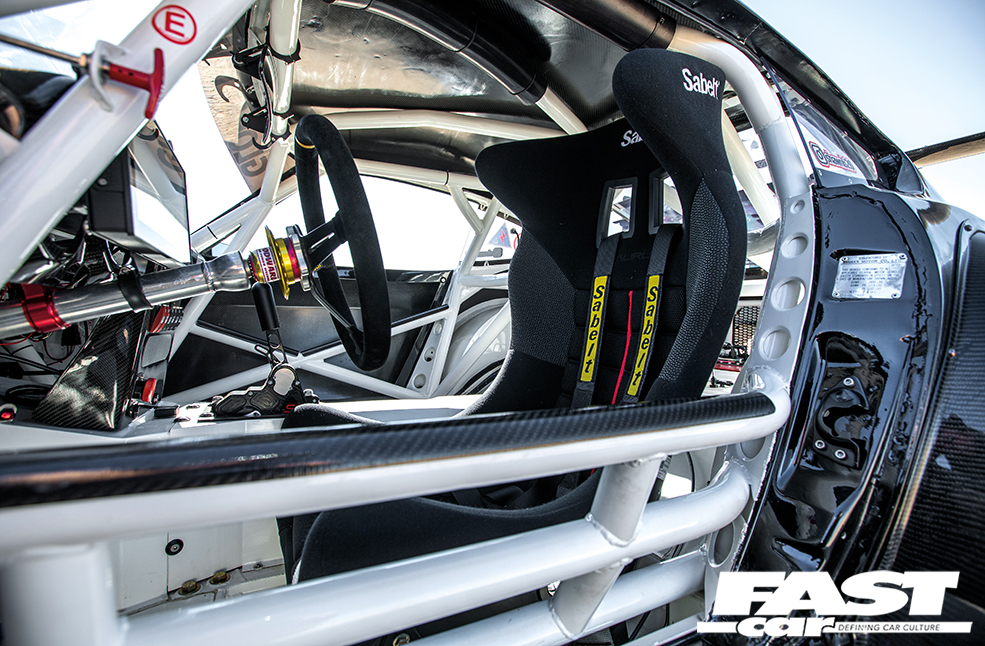 The Pikes Peak International Hill Climb, also known as The Race to the Clouds, is an annual hillclimb event to the summit of Pikes Peak mountain in Colorado, USA. The track, which used to consist both gravel and paved sections, but is now fully asphalt, is 12.42 miles long and has over 156 turns, climbing 4,720ft from the start at Mile 7 on Pikes Peak Highway, to the finish line at 14,115ft on gradients averaging 7.2%. Machines of both the four- and two-wheeled variety are eligible to take part in the event that has been running since 1916.
The poor state of the red-rot infected Z, and the need for an extreme machine that could cut the mustard on the oxygen-challenged assent to the top of Pikes Peak meant that whatever the Datsun was eventually going to be, would be far removed from the cheap track toy Shawn had originally envisaged, but this only served to enhance his enthusiasm.
"I'd built no end of rock-crawlers and off-road rigs over the years, which meant that I'm more than familiar with designing and building tubular space-framed racers," Shawn reveals.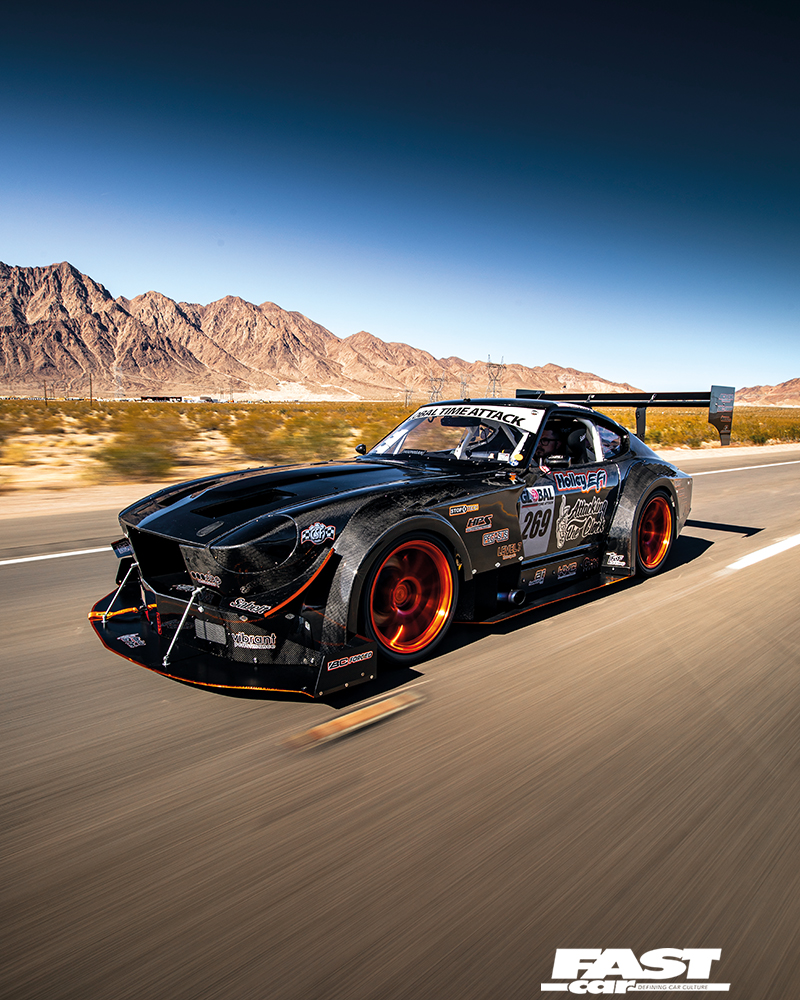 Which would be an essential skill to solve the inherent structural issues presented by the swiss cheese quality of the Datsun's chassis, and allowed him a fresh start to build something that was not only competitive, but would also satisfy the considerable regulations governing hillclimb racing.
"Although the main goal was to race at Pikes Peak, I wanted to ensure that the car would remain eligible to qualify and run in as many different race series as possible," Shawn explains. "And that meant doing some serious research into the various series rules and regulations before I even thought about picking up a welder."
The resultant tube frame chassis that underpins the project is built to full FIA-specification and is clothed in bespoke wide-ached carbon-fibre bodywork including wild hillclimb-ready aero addenda such as the deep and wide front splitter, sideskirts, diffuser and gigantic high-level APR dual-element rear wing.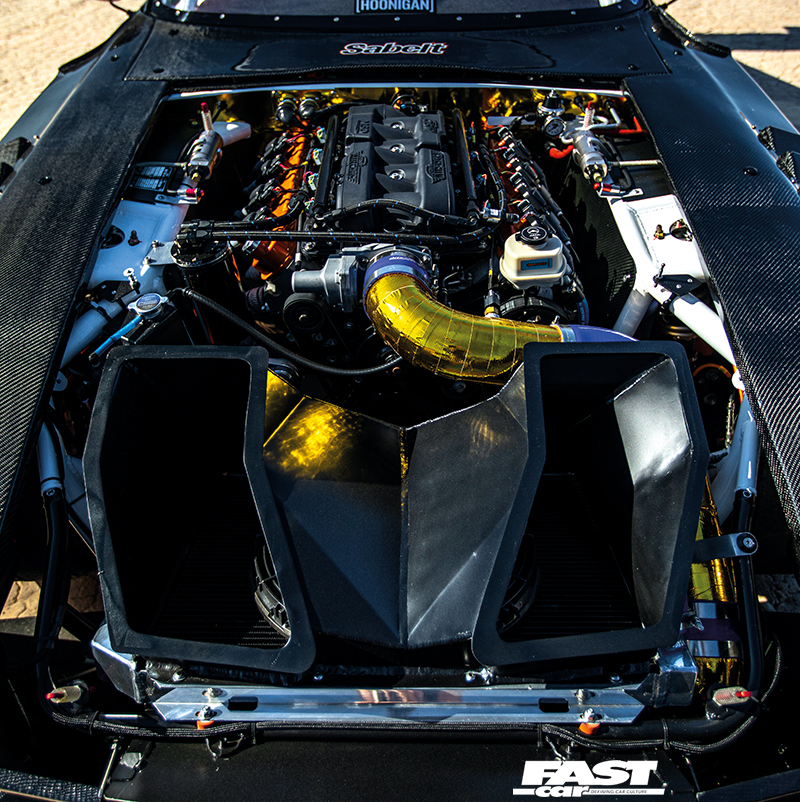 Lurking under the long vented bonnet is a 5.3-litre, LS3 V8 motor complete with ported and polished heads, a BTR Stage 3 cam and custom exhaust manifolds that combine to make a brutal 415bhp. This is connected to a beefed-up T56 six-speed, sequentially-shifted transmission which outputs to a carbon-fibre propshaft before being distributed to the rear wheels via a Kaaz 1.5-way LSD nestled in an S14 differential.
Fueling for this mighty motor is taken care of by a Walbro fuel pump and Turbonetics fuel pressure regulator feeding LS3 injectors installed in Atomic fuel rails. A Holley Dominator ECU featuring a PacePak PDM controls how much go-juice is delivered and is mapped by Nashville-based Carma Performance.
Keeping the gorgeous black weave bodywork right side up is a set of BC Racing ZR three-way coilovers, SPL Parts front and rear arms, FDF Fab grip knuckles and GT Tech and Whiteline anti-roll bars at the front and rear respectively, all working in conjunction with a braced Nissan S13 subframe.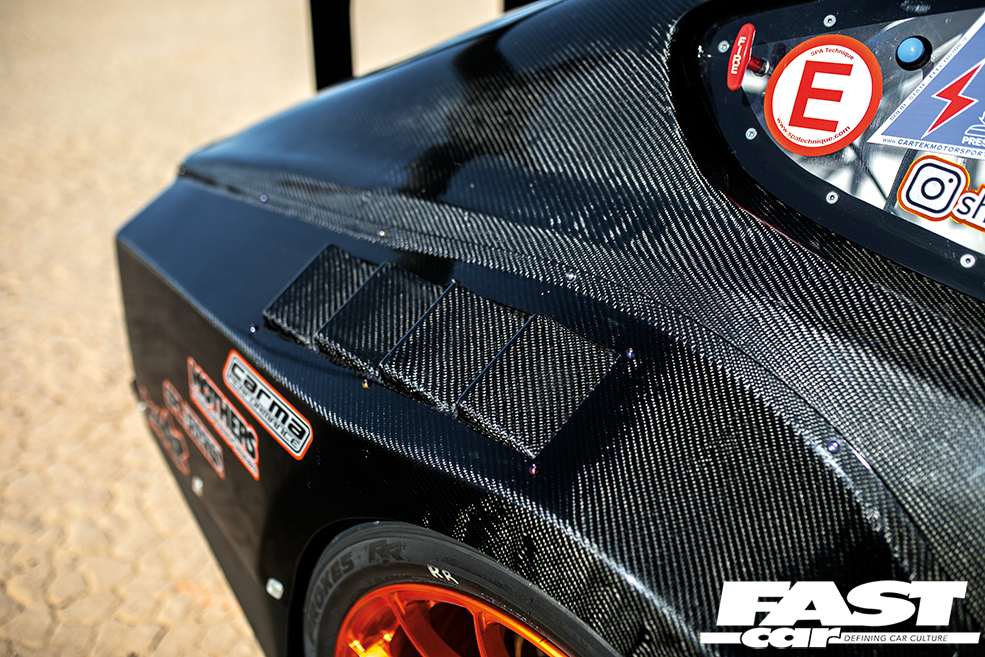 But when it comes to effectively controlling over 400bhp of V8 grunt and transmitting it to the tarmac in such a featherweight chassis, your suspension components can only do so much if your rubber can't stand the heat. That's why Shawn has invested is a staggered set of 10.5x18in front and 11x18in rear BC Forged RS43 wheels wrapped in fat 295 and 315-section Toyo RR slick tyres. These cling to the asphalt like the proverbial to a blanket, and not only allow insane grip through the corners, but also permit the huge StopTech ST43 Trophy front big brake kit to do its job of scrubbing off speed like you've hit a brick wall.
Visually complete, the LS-swapped Datsun 240Z made its public debut at the 2018 SEMA Show in Las Vegas, but it was far from the finished article, with Shawn having more than a few details to work out before the car could do what it was built to do and attack the track in anger. In fact, it would be two more months of intensive wiring and tuning before the LS-swapped Datsun 240Z could finally hit the circuit.
"It would be crazy to try and run a self-built, untested car at Pikes Peak, so I decided to shake the car down at some trackdays beforehand," Shawn remembers. "One of my biggest worries on that first day was how the car was going to handle. I wasn't concerned about my own skills behind the wheel, but as this was such a complex custom build, I was just paranoid that something was going to fall off or catch fire."
Luckily, Shawn is as good an engineer as he is a wheelman and the Datsun ran flawlessly through each session, the suspension setup working perfectly and giving him the confidence to push harder and harder without worrying about reliability. It also opened the door for Shawn to get as much racing experience as possible in order to qualify for Pikes Peak.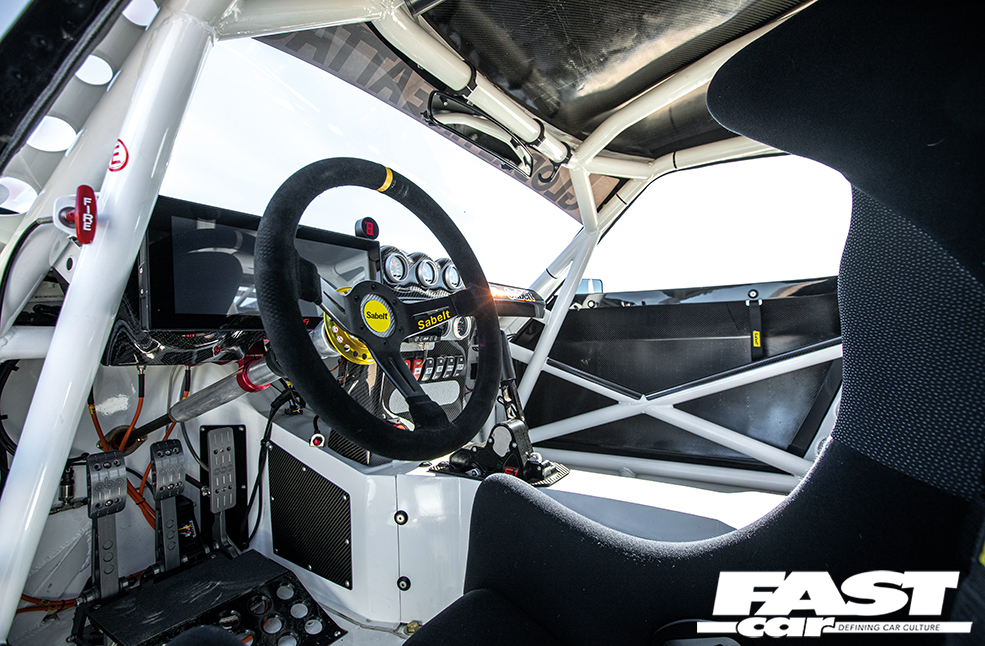 "I really wanted to hit the mountain in 2019," he says. "But when I requested an entry, I had to submit a resume of racing history. While they were willing to give me a motorcycle entry, I didn't have enough four-wheel seat time to qualify. They told me my best bet was to get my license and get some trackdays under the car's belt, and then reapply at a later date."
Which is exactly what Shawn did, passing his SCCA Pro TT licence and getting in as much track time as he could. And after a podium finish at the car's first competitive event at Road Atlanta, it was obvious that both Shawn can his carbon-clad creation were ready to make his dream a reality and take on the mountain at Pikes Peak.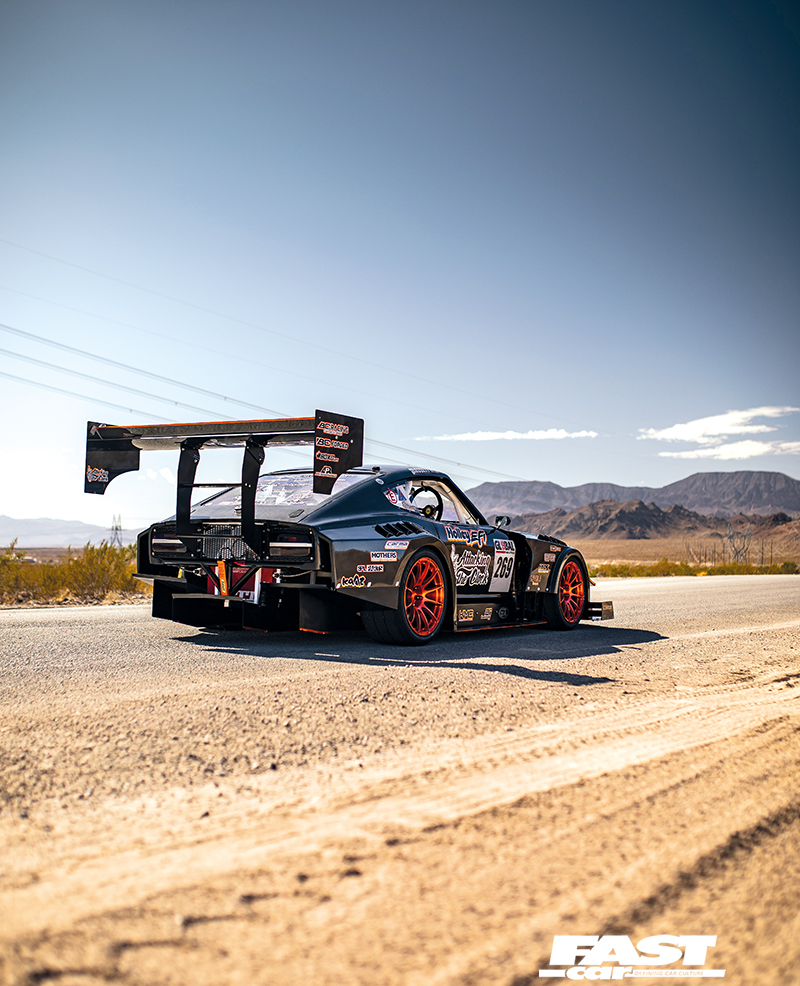 "With the relevant experience now in hand and the car honed to perfection, I'm looking forward to applying for this year's event," says Shawn. "Hopefully, this time I'll get to compete and mix it with the big boys, racing flat out on the top of the world!"
We've got no doubt that Shawn will achieve his dream, and what was once a humble Z car that was destined for the crusher will have truly earned its new lease of life, not just as cheap track toy to be blasted around the odd circuit of a weekend, but as a serious contender in one of the most iconic races on the planet. And if that's not taking its performance potential to its peak, we don't know what is!
Tech Spec: LS-swapped Datsun 240Z
Engine:
5.3-litre, 8-cyl, 16v, GM L33 LS V8 motor, ported and polished heads, BTR Stage 3 cam, custom exhaust manifolds, MSD HT leads, Atomic Airforce intake manifold, Atomic fuel rails, Vibrant Performance hoses, HPS Performance silicon couplers, CSF triple-bypass radiator, K&N carbon-fibre air filter, Aftermarket Industries FC1200 fuel pump hanger, Walbro fuel pump, Earl's Performance Plumbing fuel filter, Vibrant Performance hoses, Turbonetics fuel pressure regulator, LS3 injectors, Holley Dominator ECU, EFI sensors, RacePak PDM, mil-spec wiring by Level 7 Motorsports, tuned by Carma Performance
Performance:
415bhp
Transmission:
Built T56 transmission, S1 sequential shifter, carbon-fibre driveshaft, S14 differential housing, Kaaz 1.5-way limited-slip differential, 4.08 ring and pinion, GK Tech billet high-capacity cover, Driveshaft Shop 600bhp CV axles
Suspension:
Custom FIA-spec tube chassis, BC Racing ZR three-way coilovers, FDF Fab grip knuckles, SPL Parts front and rear arms, custom Heim front lower control arms, GK Tech front anti-roll bar, Z32 rear knuckles with spherical bearings, Whiteline rear anti-roll bar, braced S13 subframe
Brakes:
OBP Motorsport Pro V3 pedal box, master cylinders, StopTech ST43 Trophy front big brake kit, Z32 rear calipers, EBC rear discs, G-Loc pads, Hel Performance lines
Wheels & Tyres:
10.5x18in (front), 11x18in (rear) BC Forged RS43 wheels, 295/30/18 (front), 315/30/18 (rear) Toyo RR slicks
Exterior:
Custom carbon-fibre body and aero, APR duel-element rear wing
Interior:
Sabelt Taurus seat, steering wheel, harness, AiM lap timer, custom carbon-fibre dash, Auto Meter gauges, Holley Pro 13-inch digital dash, SPA fire suppression
---